50 s style wedding dresses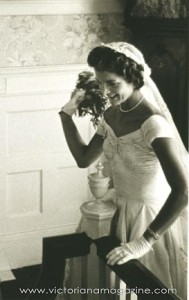 The '50 were all about ultra feminine cuts, so you can see in the
'50s wedding dresses
this concept very easily. Dior was the fashion company That made the big turn in the '50s regarding wedding dresses. They lifted the restriction of fabric usage when the 2
nd
World War was over and now the wedding dresses' style has changed. The emphasized waist, full skirts, rounded shoulders were the new trends and this type of dresses were worn with thin, tall heels. It looked very elegant and amazingly classy. If this is the look your searching for then you should wear a
'50s wedding dress.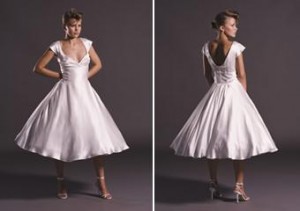 Because they wanted to make it ultra feminine, they decided to use lace. This was an incredible elegant material and the French lace also symbolized freedom from the war. '50s brides loved this fabric and one of the most beautiful
'50s wedding dresses
were made from lace.
If you're taking a look at the body shape of that era you will see that the hourglass figure was quite big. Crinolines, hoop skirts and some other techniques were used to play it up. A detail that we cannot find today was the back metal zipper. Here are some other details that characterized the '50s wedding dress:
Scooped neckline.
Layered materials.
Gothic style collars.
In the late '50s the dropped hemline appeared.
The floor length style wasn't than popular in the '50s; they preferred an angle style much more.
Flutter hems.
If the dress was strapless then a lace bolero was worn always on top.
Now that you know some things about the
'50s wedding dresses
you have to find your
'50s wedding
style
dress
. Maybe Vintage vixen is the one which will make you the best offer. If a '53 white velvet wedding gown is what you are looking for than g for it.
It's created from beaded lace and with the veil included it costs around 300$. This one is perfect white and the material is quite thick so it works perfectly for a winter wedding. A wedding in January or December is where you should wear this dress. Something else that's available at Wedding Vixen is the bridal gown with lace layers called the wedding cake. The price is around 190$ and because it doesn't have any sleeves it works better for a summer dress.
Retro dress is another online gems where you have big chances to find nice vintage wedding dresses. They have a perfect '50s wedding dress, an ivory wedding gown, made from silk or if not maybe a satin one. Anyway, take your time and check the other styles as well.
Vintage wedding dress is another option for you. Here you will find couples of '50s wedding dress styles you can chose from. Prices are from 175$ till 330$. You can see all the styles you want, because they are posted on the site. You can find the Victorian style, the traditional style, the tea length skirt and the style wedding points and layers of lace. Go online and look through all these '50s wedding dresses and pick the one you like.
eBay is another great option for you. Now that the vintage fashion is the hot stuff you have a big chance to find a great '50s wedding dress on eBay. It might not be an original but it will cost less if this is true. So, it's your choice.
Even if '50s wedding dresses are so beautiful and classy they have downsides as well. If you find a nice '50s wedding dress, it's a matter of luck if it's your size or not. You cannot control this so, you need to hope for a lucky day because adjusting this kind of dresses is usually quite hard and you can destroy all the beauty of the dress. It's not the best thing that you cannot select what you wish for from a menu or from a salesperson but if you are lucky and you find the '50s wedding dress that you want then that's perfect. Something else that you should take into consideration is making your own '50s wedding dress.
It's not going to be easy but you might give it a try. You need to find an amazing tailor that will be able to create the '50s wedding dress exactly like you want it.When you're wearing such a dress at your wedding you either should organize a '50s wedding theme or you will have a very elegant wedding indeed. '50s wedding dresses don't work with any type of wedding. Because they are so elegant and feminine you need to be sure that all your wedding is in a line and that the '50s wedding dress is exactly what was missing.
There's hope to find a great '50s wedding dress if this is what you wish for but you need to be patient and to offer yourself a lot of time for shopping the dress. Dig around it online and don't give up if you won't find it in the first 10 websites. This doesn't mean that everything is lost. This is how it works for antiques and vintage items, it's not easy to find them, but when you do, the fulfillment and pleasure is amazing.
11