Asian wedding dresses
Pretty much all the wedding dress designers you've seen on this website create dresses according to Western style and sensibilities, Australia-based Culture Shock is a little more open to the cultural diversity than most bridal salons. They've got the usual vintage-inspired, Greco-inspired, and French-inspired designs, but they also offer something I've never seen in a bridal salon – Asian-inspired wedding dresses! Their Asian wedding dresses are a creative fusion between white A-line dresses and vintage silk fabrics from China and Japan. The fact that Western wedding dresses are a stark white makes the colorful silk fabrics stand out all the more.
Culture Shock's trademark Asian bridal gown is the classic obi gown. It's a tailored, figure-flattering, full-line A-line dress designed to give the illusion of length but instead of the usual beadwork, the dress is adorned by a detachable Japanese-inspired obi waistband. The obi waistband is attached to the dress through a series of loops and buttons, and is made out of your choice from a wide range of vintage kimono fabrics. The classic obi gown is the perfect choice if you're going for a very subtle East-meets-West look.
The couture kimono-inspired wedding dress is one of Culture Shock's best designs. Made of authentic kimono and obi textiles exclusively sourced from Japan, each wedding dress is truly unique and individual, since no two kimonos or obis come in the same print, color, or texture! Brides-to-be can select a kimono from their collection, then work together with Culture Shock's designers to create the perfect blend of white silk fabric and kimono textile in any way they want. The wedding dress picture above features a cherry blossom kimono jacket worn like a wrap over a liquid satin wedding dress, and a matching obi waistband.
This photo is of an actual bride who bought a custom Asian bridal gown from Culture Shock. She chose to forgo the obi waistband over the pink silk gown and chooses to wear a bright, spring green kimono jacket over the dress.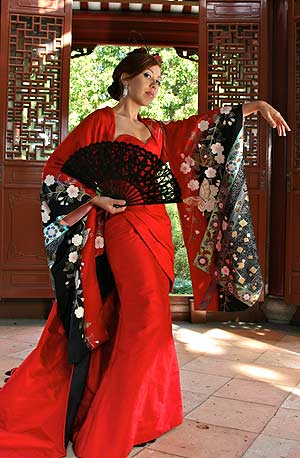 Another wedding dress worn by an actual bride. This Moulin Rouge themed wedding dress is a foxy combination of red and black and features a sweetheart neckline-sheath dress under a lush, red and black kimono jacket.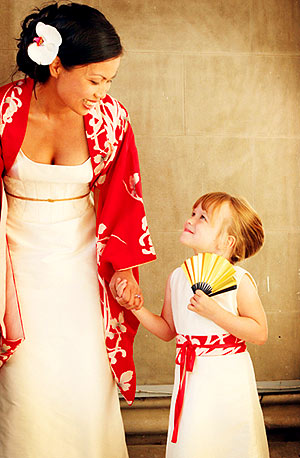 You can even include Asian fabrics into the flower girl dresses if you wish! The bride chose to wear a white obi with her wedding dress, followed by a kimono jacket made in the same fabric as her adorable flower girls' obi.
Each wedding dress is custom made, with couture prices starting at 4,000 Australian dollars. If you can't afford to have a dress made by Culture Shock and shipped to where you live, these photos make a great starting point if you'd like to design your own Asian bridal gown.
Photo credit