Cream wedding dresses
For all the brides who consider themselves more romantic and stylish perhaps a
beautiful cream wedding dress
can make a more gorgeous choice. The cream color is definitely a very attractive, sensual, stylish and elegant shade that can work beautifully for a wedding day. It's true that not everybody might come into agreement with this color for the big day because it is not white, but more a copy or a less inspiring alternative, or at least this is how many brides might think. But they should know that nowadays even more dynamic and bolder colors that are considered even more unusual and unsuitable for a wedding are allowed or permitted.
Modern brides have lots of choices when it comes to choosing a modern and yet timeless wedding dress. A beautiful cream wedding dress is definitely a more artistic and unconventional choice for all the brides who are planning an antique inspired wedding. Cream stands for elegance, refinement, high class, good taste, fashion, sensuality, femininity, artistry, nonchalance, softness, kindness, inspiration, creativity, simplicity, sophistication, naturalness, intuition and flirt. As you can see, this color truly makes a sensational alternative to the predictable white color that can be seen in everyday weddings.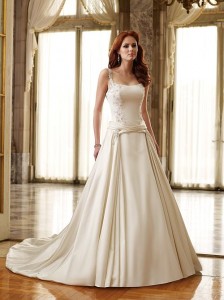 Before choosing the ideal wedding dress make sure that you see as many styles and different designs and colors as possible in order to make a more advised decision. If you want to go vintage and plan a more authentic look then you must surely opt for a beautiful cream wedding dress where this timeless old fashion nuance will provide you with a more authentic look. It doesn't really matter where your wedding is going to take place – outdoors in a botanical garden or in a public park, or indoors, in a more fancy and stylish restaurant or another type of local. The final look is going to be ravishing!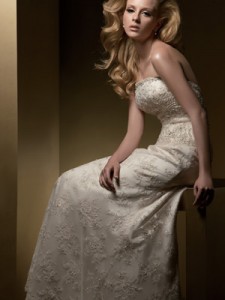 The cream wedding dress can be made from lace – the most romantic, feminine and seductive timeless material of all, satin, silk, chiffon, cotton, illusion net, tulle or taffeta, depending on the season and formality of the wedding. If you find cream to be a little bit too faded and plain, perhaps you can opt for an ivory shade that's usually more lustrous, shiny, polished, glamorous and eye-catchy. In general, lace or silk wedding dresses come in ivory, cream, beige or champagne colors and they are designed and created especially for the vintage type of brides who are planning an old style wedding. For the off the beat brides who are planning the wedding in New York – the city of style and fashion, but not necessarily, then perhaps a beautiful cream wedding dress can truly make a sensational, spectacular and glamorous pick.11